Up until 2 years ago, I had always maintained a steady and healthy weight without really trying. I had a good balance of movement (note I say 'movement' rather that 'exercise' as most of my weekly steps used to come from a love of hitting the dance-floor with friends on the weekends!) and my diet wasn't bad, albeit a little carb heavy.
But I, like many of my friends, have gained 'COVID kilos' from the more sedentary and less social lifestyle that restrictions have created. The average gain between most of us is 7-10kgs.
10kgs may not sound like a lot, but as I am quite short, it actually puts my BMI into the 'overweight' category.
What does an extra 10kgs do to my body?
Well, firstly, it ensures that more that half of my wardrobe of dresses does not fit anymore – and I LOVE my dresses, particularly because many I made myself so they have personal meaning.
From a health perspective, the extra weight is causing issues with my hips due to a pre existing condition and so I am losing the enjoyment of walking and running, 2 activities that have previously been stress relieving for me.
So my first goal for the year is to shed these extra kilos and to create a new and more conscious ongoing activity and meal plan so that the lower weight can be maintained. The deadline to lose the 10kgs is the 1st June. If the weight hasn't budged by then – over 50 of my favourite dresses will be hitting Facebook Marketplace.
Why juice fasting?
Juice fasting was recommended to me by a friend mid last year. I had mentioned that I suspected that some of the weight was inflammation and bloating from eating the wrong foods, so he suggested a juice fast as a great way to cleanse the digestive system and lose weight at the same time.
He sent me the links to the best slow juicer on the market. He also recommended that I go 100% organic fruits and vegetables, to get the full nutritional value.
At the time it seemed like a pretty expensive experiment, but as Christmas started to approach and another kilo of two had crept onto my body despite now walking every day and going to yoga 3 times a week, I decided to gift myself the juicer from Santa.
I found that the Kuvings juicer he had recommended was actually being sold in a 'free set of steak knives' style pack on the home shopping network for the same price that it was selling on its own in stores, so I placed an order and was thrilled when the juicer and all the accessories arrived.
Preparing for the Juice Fast
The pack included 2 recipe books and a 7 day Juice Fast plan and shopping guide. I felt no need to recreate the wheel – the plan looked sensible and quite delicious, so I headed out to buy the ingredients for my week of juice. I had to do a mix of organic and regular fruit and veggies, organic was the preference but the quantity and variety that was required meant that it wasn't possible in my local shops.
My total shopping bill came to $99.80 for everything on the list. Normally my supermarket shopping bill is around $60 per week. I have breakfast or lunch at a cafe 5-6 times per week at a cost of around $120 and I dine out at least twice a week spending around $100 as well. So this creates a massive cost saving in my household budget the week, almost pays for half the juicer in itself!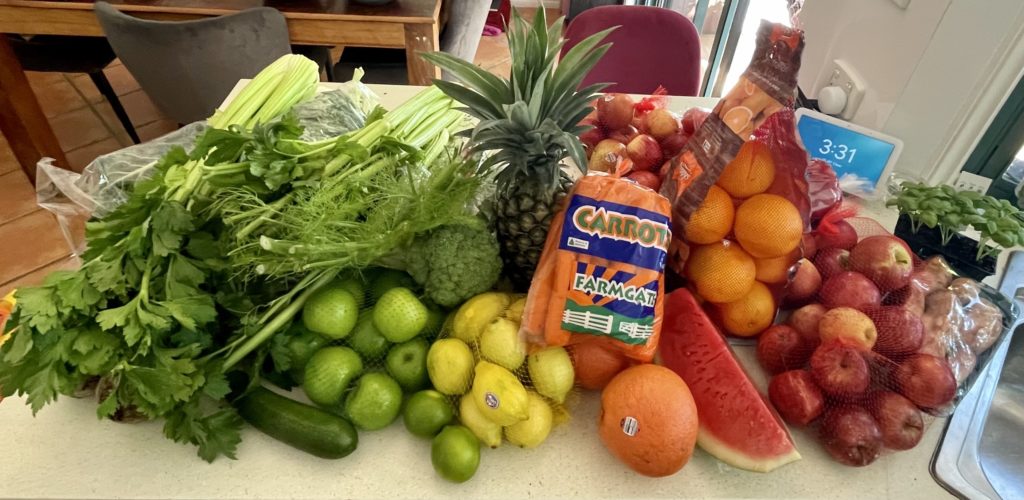 Measuring Success
"What we measure, we improve" so the quote goes. Obviously a drop in weight will equal success, but I am interested in more than that. Numerous studies have demonstrated links between gut health and the immune system, mood and mental health. The types of bacteria in your gut have been shown to affect everything from your mood to your weight to how you handle stress.
So for the next 7 days I will be measuring my weight in kilograms and my body in centimeters, as well as my mood, thoughts and energy levels.
---
Juice Fast Day 1 – The Metrics
| | |
| --- | --- |
| Weight | 67.1kgs |
| Chest | 84cm |
| Waist | 78cm |
| Hips (at widest point) | 104cm |
| Thighs (L,R) | 60cm, 61cm |
| Mood | Calm |
| Energy Level | Moderate |
| Positive Thoughts | Money savings, less dishes, meals planned for me |
| Negative Thoughts | How will my social life be affected this week? |
| Slip Ups | Picked up a handful of cashew nuts from the pantry mid afternoon out of habit. |
---
Juice Fast Day 2 – The Metrics
| | |
| --- | --- |
| Weight | 64.7kgs |
| Chest | 84cm |
| Waist | 77.5cm |
| Hips (at widest point) | 101cm |
| Thighs (L,R) | 59cm, 60cm |
| Mood | Calm |
| Energy Level | High – I woke up in the middle of the night full of energy and read for an hour |
| Positive Thoughts | Still loving the no dishes, dropped 2.4kgs straight away and feeling less bloated |
| Negative Thoughts | I want some chocolate! |
| Slip Ups | Had a lunch booked with a friend, felt bad not eating so ordered and ate a side salad |
---
Juice Fast Day 3 – The Metrics
| | |
| --- | --- |
| Weight | 63.8kgs |
| Chest | 84cm |
| Waist | 76cm |
| Hips (at widest point) | 101cm |
| Thighs (L,R) | 58cm, 60cm |
| Mood | Calm |
| Energy Level | A little above average |
| Positive Thoughts | I'm enjoying so many of the juice recipes, I can't believe I've been 3 days without a meal |
| Negative Thoughts | None today |
| Slip Ups | Another accidental pantry browse when mid afternoon munchies came |
---
Juice Fast Day 4 – The Metrics
| | |
| --- | --- |
| Weight | 63.4kgs |
| Chest | 84cm |
| Waist | 75cm |
| Hips (at widest point) | 101cm |
| Thighs (L,R) | 58cm, 59cm |
| Mood | Average |
| Energy Level | A little above average |
| Positive Thoughts | Awesome to see my weight dropping off |
| Negative Thoughts | My stomach feels empty and I am really starting to crave the sensation of chewing |
| Slip Ups | I had a half a glass of fermented grape juice (red wine) with a friend and it really disagreed with my empty stomach |
---
Juice Fast Day 5 – The Metrics
| | |
| --- | --- |
| Weight | 63.6kgs |
| Chest | 84cm |
| Waist | 75cm |
| Hips (at widest point) | 101cm |
| Thighs (L,R) | 58cm, 59cm |
| Mood | Average |
| Energy Level | Average |
| Positive Thoughts | 2 more days to go |
| Negative Thoughts | I'm missing food so much! Especially the experience of food – of sitting down and tasting all the different notes and feeling all the different textures. |
| Slip Ups | Keep going to nibble on the fruit before it goes in the juicer – the desire to chew is huge!! |
---
Juice Fast Day 6 – The Metrics
| | |
| --- | --- |
| Weight | 63.4kgs |
| Chest | 83cm |
| Waist | 74cm |
| Hips (at widest point) | 101cm |
| Thighs (L,R) | 57.5cm, 58cm |
| Mood | Average |
| Energy Level | Average |
| Positive Thoughts | I can see visible changes in my body, more definition to waistline, clothing fitting better |
| Negative Thoughts | My teeth feel weird, kind of achy, from lack of use |
| Slip Ups | Once again was tempted to have some wine with colleagues, half a glass went straight to my head. |
---
Juice Fast Day 7 – The Metrics
| | |
| --- | --- |
| Weight | 63.1kgs |
| Chest | 83cm |
| Waist | 74cm |
| Hips (at widest point) | 101cm |
| Thighs (L,R) | 57.5cm, 58cm |
| Mood | Average |
| Energy Level | Average |
| Positive Thoughts | I did it! |
| Negative Thoughts | None! |
| Slip Ups | Not really a slip up, but I have decided to end my fast at 5pm and to go out and have a really good dinner – something with some serious meat. I am going to cherish every bite! |