I had done a bit of research on the best way to get to Pamukkale and I had decided that a bus and then a taxi was the best option as it was reasonably direct and very low cost (bus – AUD$12, taxi -AUD$9) but there were a number of times today that I kicked myself for not just taking a taxi. Most of the taxi drivers here in Turkey and also in Greece double as private tour providers and are more than happy to do a long trip like the one from Marmaris to Pamukkale, but I had chosen the bus and booked my ticket for 2.30pm online using the Flix bus app.
For the morning, I wanted to do some more castle explorations so I very quickly ate some breakfast at the hotel and then got out my phone and put Marmaris Castle into apple maps. It was only about 15 minutes walk from the hotel but it was on this walk that I realised that my International roaming was not working so the navigation dropped off when I was out of range of the hotel wifi. No big deal, I could still see the map and I could see what I thought was the castle in the distance so I just walked towards that and got there easily.
The Castle was lovely and had 360 degree views of the bay and surrounding town and also housed a small museum with interesting artefacts and coins. I had a lovely time quietly taking in all of the history housed in the old fort.
I walked back to the hotel via the grand bazaar and picked up my bags and while I had wifi, tried to contact Telstra to find out what was going on with my phone. It was the middle of the night in Australia and I couldn't get through to a human so I gave up and put the bus station into apple maps, it said it was a 15 minute walk, so, with some false confidence from the earlier trip to the castle, I decided to just wing it again.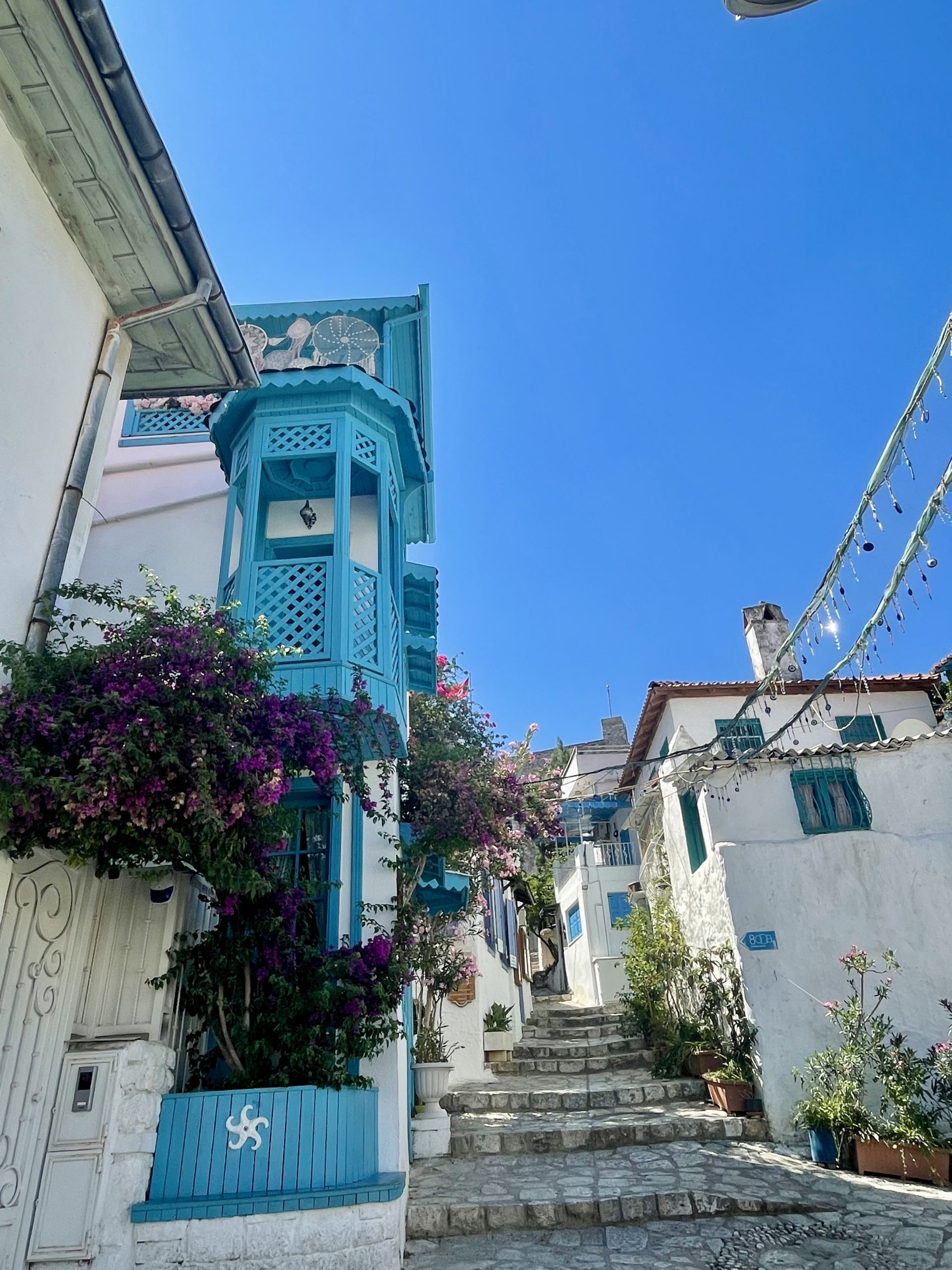 Big mistake.
It was 15 minutes walk, but it was all uphill and I was dragging a massive suitcase! Many wrong turns later and dripping with sweat, I got to the bus station. I walked straight to a shop owner, bought a litre bottle of water and drank the whole thing in about 2 minutes flat. The ticket had said to get to the bus 15 minutes prior to departure for baggage labelling, so I started looking for a Flix bus sign. There wasn't one. The ticket was for one of the Flix partner bus lines. I tried to look up the bus line on my phone but, that's right, my international roaming wasn't working! There was no Wifi at the bus station and no-one spoke any English!!
Right about now a bus pulls into the station and it has a big flashing sign that says 2.30pm Denizli – that has to be the bus, right? I go up and show the driver my ticket in the app and ask if this is the right bus – he shrugs and then nods, so I take that as a yes, get my suitcase loaded onboard and take my booked seat. Just as the bus is about to pull out of the lot, a gentleman came past with the seating list and – you guessed it – I was on the wrong bus!
I dived off, grabbed my suitcase and ran towards the only bus that was still in the station – it was just closing it's doors. 'Are you the 2.30pm bus to Denizli' I asked. They looked at the app and at their passenger log and let me on, without luggage tags and in 30 seconds we were on the road.
The bus was actually quite nice, it was comfortable and well equipped with a power point in each seat and a 'plane style' tv for each passenger, but I have to admit I spent most of the 3 hour journey in a paranoid state because I didn't actually see them put my suitcase on the bus and I kept imagining it back on the tarmac at the bus station.
We finally arrived at Denizli and I jumped into a taxi and we started making our way out to Pamukkale.
I was still feeling quite on edge, but after about 15 minutes drive, the white travertines came into view and my agitation started to dissipate. Then, when we got to my hotel, it melted away completely.
I had booked into a Thermal Spa and Resort and as we walked out to my room I was amazed to see that the hotel had it's own private red travertine springs and mud baths. It also had a full spa, a big beautiful pool, multiple restaurants – it was wonderful!
So after a bit of a stressful afternoon, I ended my day bathing in the hot spring mineral waters of the mud pools, watching the sunset over the mountain range behind the hotel – all's well that ends well I suppose!