I decided to have an easy day today and wander around some of the galleries in the city.  I had a look online and decided that the Borghese Art Museum was the best one for me as it houses many of the works of Bernini, who I studied in high school.  
I walked to the building and was disappointed to find out that it was sold out!  I had no idea that you would need to book a ticket, I thought you just got tickets at the door like you do at galleries and museums in Australia (mental note: book tickets to the Louvre now!).  It was over 40 degrees outside, and I had walked 2 kilometres to get there, so I was already hot and bothered.  My level of bothered-ness increased even further when an older gentleman, who had also been turned away from the museum, started trying to latch onto my arm so that we could take a walk through the gardens. He did not want to accept no for an answer and I ended up getting quite upset.
I managed to get away and walk to a quieter area to calm my nerves. Taking a few deep breaths and looking around I spotted a map of the Villa Borghese gardens and decided that I would make the most of being in these lush, green, shaded gardens on a hot day and visit some of the statues and monuments in the grounds. I ended up wandering for a couple of hours, there were some beautiful lakes and I found a delightful spot to have some lunch.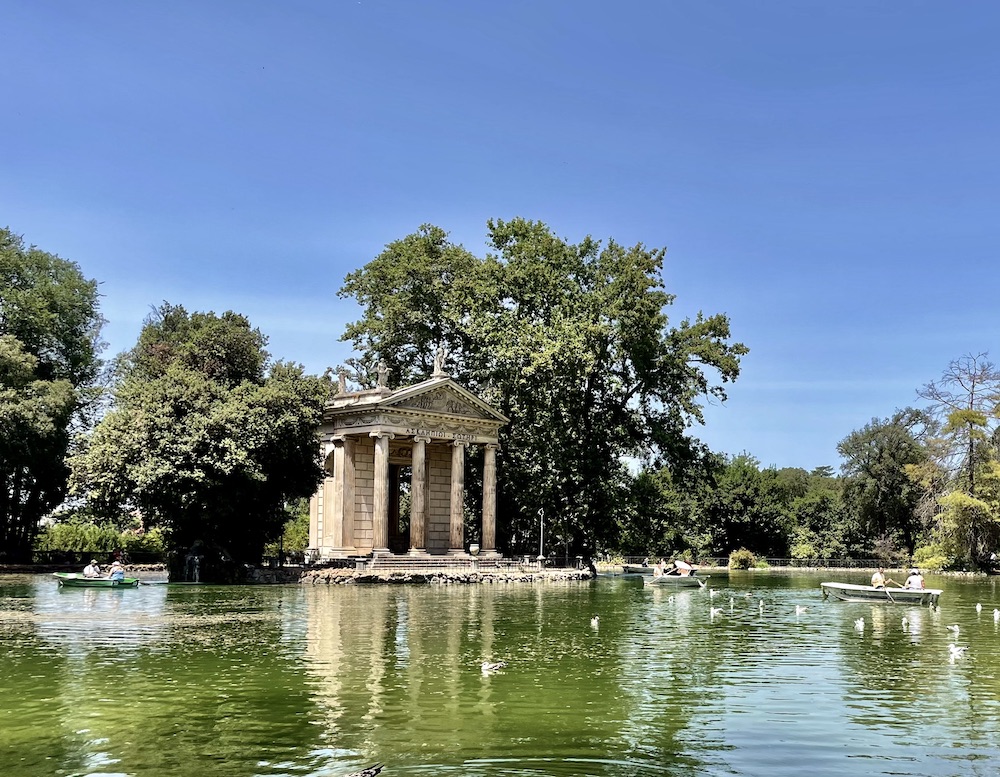 I decided to leave the gardens through the main entrance and to walk through the Piazza del Popolo square on my way back to the apartment as I hadn't been through that part of town yet.
As I entered the square I saw a sign for the Da Vinci Museum and was thrilled to find out that they did have tickets! I decided to do the audio tour walk through and spent the next 2 hours looking at the sketches, artworks and hundreds of inventions that Leonardo Da Vinci created in his lifetime. What an incredible innovator he was!
After leaving the museum it was getting close to sunset, so I found a nice restaurant that served a great spaghetti Marinara which I ate slowly over a nice red wine before retreating to the apartment for a good rest ready for a big day of walking again tomorrow.