It is my last morning in Rome and I had been holding off on touring the Colosseum and Roman Forum in the hopes that the heat would drop a little, but there was no such luck. As I made my way to pick up my tickets from the tourist bureau at 9am it was already 39 degrees!
I was booked on a self paced tour, so I had a recorded headset to guide me and I could go at my own pace. The only strict requirement was the entry time into the Colosseum which for me was 11.20am.  I started my tour at the Roman Forum, it is amazing to think that for many centuries, the fate of Europe was decided from this very place.  Some of the highlights were the Arch of Titus, which is the oldest of the Roman triumphal arches, the Basilica of Constantine, the Temple of Romulus and the Temple of Antoninus Pius.   
I walked up to Palantine Hill to see the remains of the buildings that once made up the residential district of the Roman aristocracy – palaces, homes and gardens.
Time went so fast, there was still a lot to see, but I wasn't going to be late for my entry into the colosseum.  The structure is just enormous and you can imagine what it would have been like when it was in use.  It was amazing to walk around the building and there were some fascinating artifacts on display as well, including graffiti from the walls that had been carved by spectators!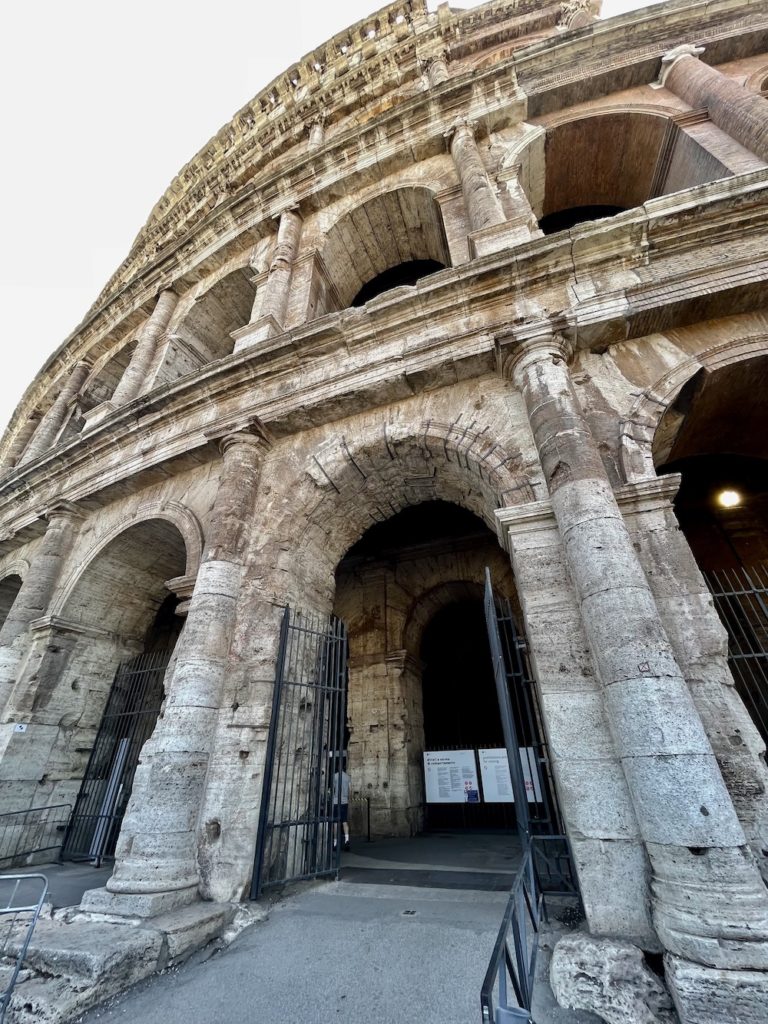 When the tour of the Colosseum was complete, I returned to my apartment, collected my suitcase and boarded the fast train from Rome to Naples to make my way to my next stop for the night – Pompeii.
A hotel transfer was waiting for me at the Train station and I was taken to the beautiful Habita79 hotel – It was stunning, modern and spacious with big teal coloured velvet couches and marble statues. Downstairs there was a wonderful pool and spa – which I made my way to as soon as I had dropped my bags in my room. I checked my fitbit and I had walked over 50kms in my 4 days in Rome, my legs and feet were aching and I couldn't wait for a soak in the spa!
After a luxurious 10 minutes in each of sauna and steam room, way too much time under the 'emotional shower' (a dark shower room that gently sprays lovely smelling water all over your while led lights project different colours) and enough time lounging in the spa and pool to get suitably wrinkled fingers and toes, I went back to my room to shower and dress for dinner.
Midway through my shower the lights and air-conditioning suddenly cut out. I thought I must have forgotten to put my room key back in the slot so when I got out of the shower I went to check. I pulled the card out, put it back in again in every direction. It didn't work, so I quickly dressed and wend downstairs to find out that we were in the middle of a power outage, and as the locks on the doors were all computerised – I couldn't get back into the apartment.
So, I'm signing off this entry with wet hair, drinking my complementary welcome drink and nibbling on some Italian olives in the dimly lit hotel bar, waiting for the power to be reinstated….