Grand plans for a sunrise photo session from the hill of nymphs were dashed when I missed my alarm and got caught up tying up a few final work issues back home.
I had also intended to head up to the Acropolis today but found that the site closed early on a Monday, and due to my now late start, I decided to wait another day and spend some more time exploring other parts of the city. I bought some fresh fruit from the markets for a late morning tea and then made my way over to some of the impressive buildings that I had seen from the taxi on the way in.
As I was walking a rack of dresses for 10 euro caught my eye (as they do!) and I started browsing through. The little old shopkeeper emerged from the store holding a rich blue dress. 'Excuse me' he said 'I hope you don't mind, but this one – it would be perfect for you I think – it would match your eyes'.
Totally suckered in, I tried the dress and I have to say he was right, it was perfect – and it was only 10 euros so I was sold! As the gentleman was packing my purchase for me, he asked what I thought of the city.  I told him that I loved exploring historical buildings and towns, that they feel like such a grounding experience because they remind me that people have been living the same type of existence for hundreds and thousands of years. I told him the oldest buildings in Australia are less than 200 years old.  He laughed.  'You know, apart from the ruins there isn't much here that is over 200 years old either.' He proceeded to tell me a bit of the history of the city – from conflict and wars that had destroyed buildings, to a government incentive for developers in the 70's to demolish old buildings to build apartments.  
I left the shop pondering our conversation and headed over to the parliament buildings.  Stopping to look at some of those 70's and 80's era apartment buildings that are now supporting some pretty awesome street art to cover over their plain and ageing facades.  At 4pm there was the changing of the guard at the Monument for the unknown soldier.  I stopped to watch the young soldiers wearing full costume in the blazing sun performing their mark of respect for the fallen.  For me, it was a greatly moving ceremony, particularly with the current situation in Ukraine, just 2000kms away.
Next it was back to the apartment for an afternoon nap before I donned the blue dress and made my way to a little cocktail bar I had seen earlier with a fantastic view of the Parthenon at sunset. 
I ordered a fancy pink cocktail and found a table with a perfect view of the Acropolis.  Several sips in I heard an Irish voice behind me.  'D'ya mind if I join you?' I turned to see a man in his 60's who I had noticed was sitting alone nearby when I walked in.  He seemed harmless enough, so I invited him to sit down.  Over the next 3 hours and several glasses of rose, I was taken on a journey back to ancient times as the gentleman shared that he had decided to restart his career in his 50's and went back to university to study Archaeology.  He was here researching for his PHD, which centred around the origins and locations of ancient Greek sanctuaries.  It was truly fascinating conversation and before I knew it, it was midnight.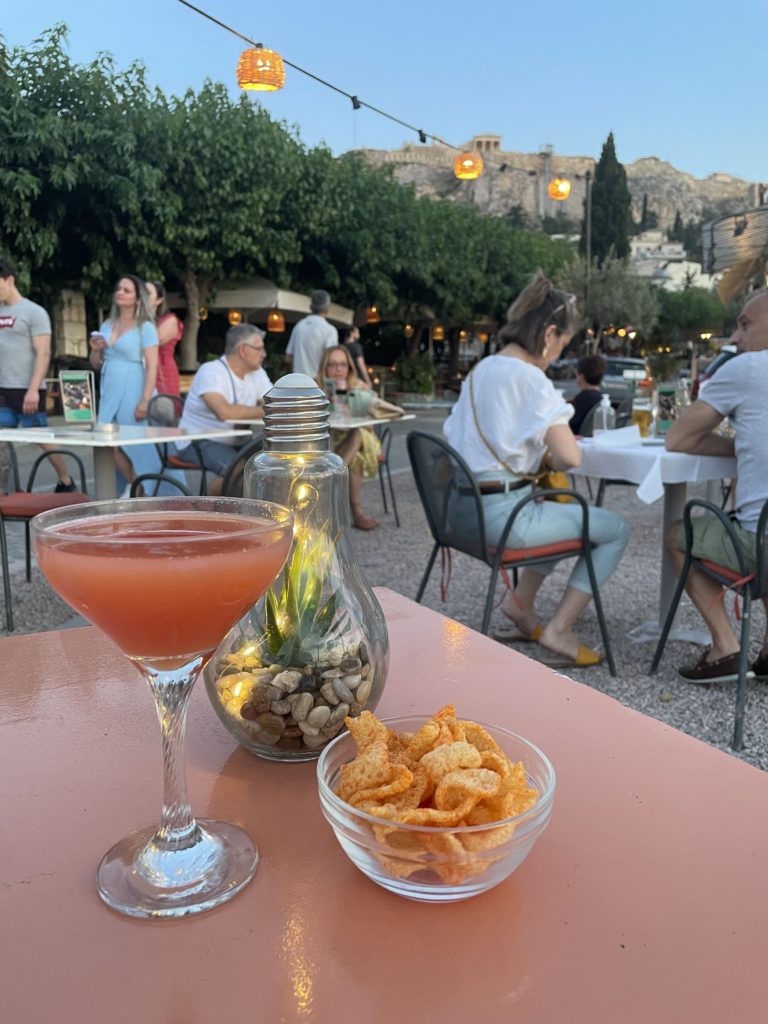 With those few wines under my belt I was ready to hit the town, so I walked back to the restaurant where I had dined the night before and found the waiter that had offered to show me some of the better and less touristy bars and clubs while I was in town (and probably never expected me to take him up on the offer), so I concluded my night dancing till dawn like I would have if I had taken this holiday 25 years ago!