Despite a rather indulgent night, I woke up early, packed and set out to make the most of the next few hours before I boarded the next Ferry to Ios.   I walked along the beach and boardwalk, out to the other side of harbour to check out the remains of the temple of Apollo that are situated high on the hill.  It was a beautiful walk over and the remains of the temple have created what is almost a picture frame around the city when you walk past at the right angle!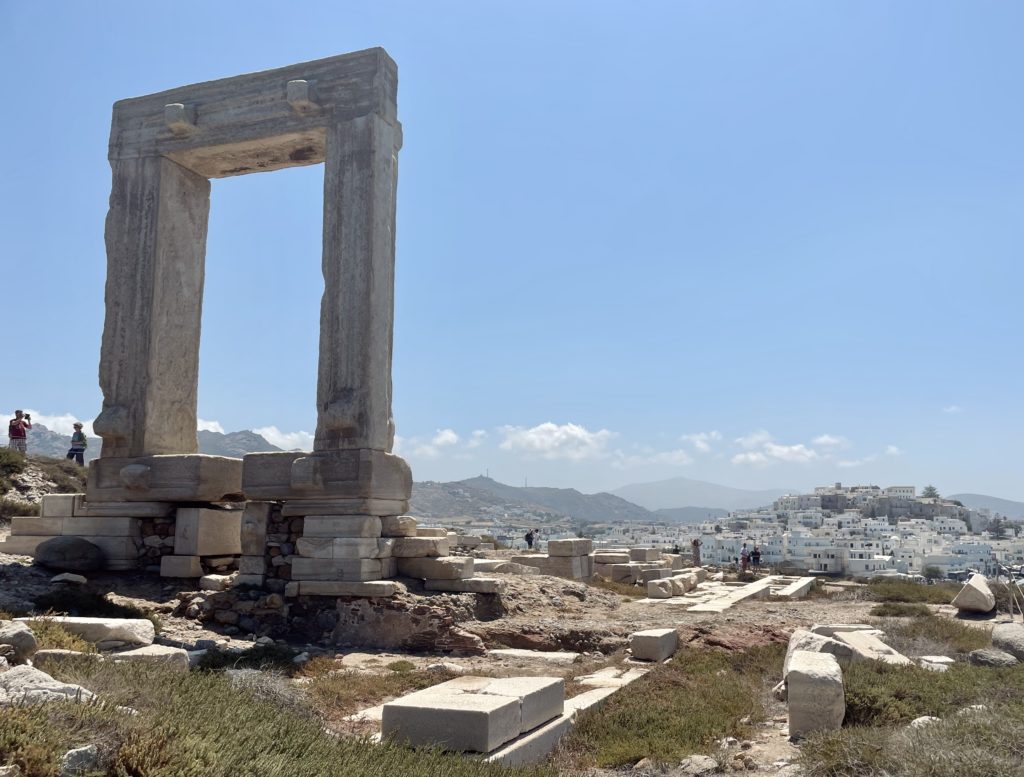 I settled at a small café for some lunch and then boarded the ferry for Ios around an hour later. The trip from Naxos to Ios is a short one, only around 50 minutes and the time between ports flew.
The first thing I noticed as I disembarked the ferry was the people that were disembarking with me – nearly all of them under 25 with British, Scottish, or Irish accents – reminded me a little of an ex on the beach episode!
I had opted for some low cost accommodation for Ios so the hotel was quite simple but the host was amazing and the location (around 10 minutes walk up to the main town or down to the nearest beach) and views from the hotel were spectacular.  
The rest of the visitors to the hotel were all similar demographic to those that disembarked with me, so there was lots of music, boozing and rowdy chatter.  To give me a little more peace and quiet the hotel owner upgraded my room to one at the top of the complex with a huge balcony overlooking the bay – it was really quite lovely.
I dropped my gear in the room and then walked into town.  I had been told by the taxi driver that you could hike all the way up the hill of churches and for a fantastic sunset view, so I set off up the hill and sat quietly for the next hour as the sun slowly set in the sky.  
As the last of the daylight faded, I walked slowly back to my hotel, lay on the bed with the door to the balcony open and listened to the revelling of my fellow hotel guests enjoying the summer evening of beers and Bacardi breezers!