My day started early with a quick breakfast at the hotel followed by another one of those insanely expensive taxi transfers to Thira, where I would be making my way to the old port to catch a boat out to the hot springs and the Santorini Volcano.
There are 3 ways to get to the old port of Santorini – Cable Car, Donkey, or walking the 560 stairs. It was 9am and already over 30 degrees so I opted for the cable car and got down to the waiting area in plenty of time.
We boarded a big old wooden sail boat and headed first out to the hot springs. The location of the springs was beautiful, but not accessible by boat, so the tour group had to swim across some gorgeous turquoise waters to get to them.
Next we headed over to the Volcano site.  It was over 36 degrees and there was a big hike to the top of the volcano but we all made it eventually and the tour guide shared the volcanic history of the Greek islands, with this being the only above ground crater that is still active in the area.  The volcano had not had a major eruption for many years, but did still cause some earthquakes, including a 7.5 magnitude earthquake in 1956, the largest to ever be seen in Europe in the 20th century. It was followed by a tsunami 25 meters high which destroyed a huge amount of the buildings on Santorini.  Oia was particularly badly damaged and had to be almost completely rebuilt – which explains why that particular area is so crisp and photogenic, the majority was rebuilt just 60 years ago.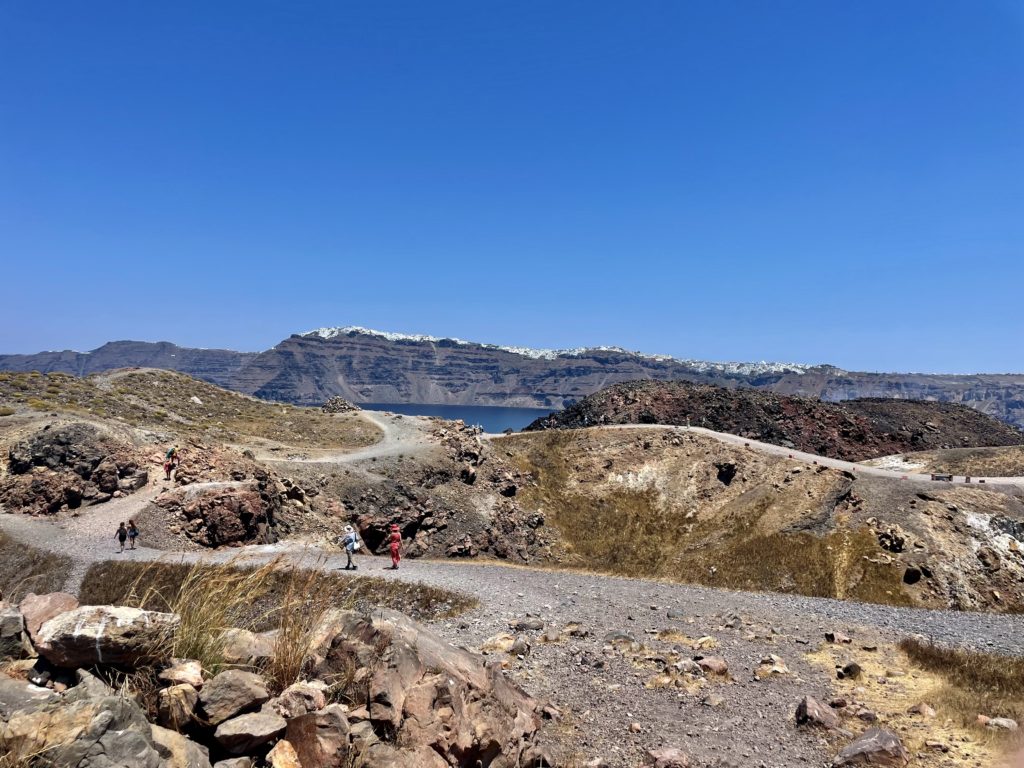 We sailed back to Theta and I enjoyed a very nice lunch of Greek salad, breads and a Greek Mojito in one of the restaurants on hill overlooking the old port before taking a taxi to the town of Megalochori where I would embark on the special treat that I had booked for myself – a sunset horse ride to see some of the more historical sites on the island.
I was quite nervous as we pulled into the ranch as I hadn't ridden a horse since high school. This was not a tethered trail ride, we each would have independent control of our own horse. We were given some brief safety instructions, fitted with a helmet and given a saddle bag – then we went out into the mounting yard to meet our horses.
My horse was serendipitously named Artemis (Opmantek sold software to NASA for their upcoming Artemis missions last year) which gave me a little confidence that we were meant to be paired and that all would be fine.
We set off on our trek along the Caldera trail at around 6.30pm and trotted through spectacular vineyards, past picture perfect little churches, beyond hidden ruins and out to the beach before looping back through the town, arriving back at the ranch at nightfall. It was absolutely magical. I could actually feel my inner child dancing with glee with every hoof fall of that trip.
I returned to the hotel with bowed knees and a very happy heart – exhausted and ready to sleep.